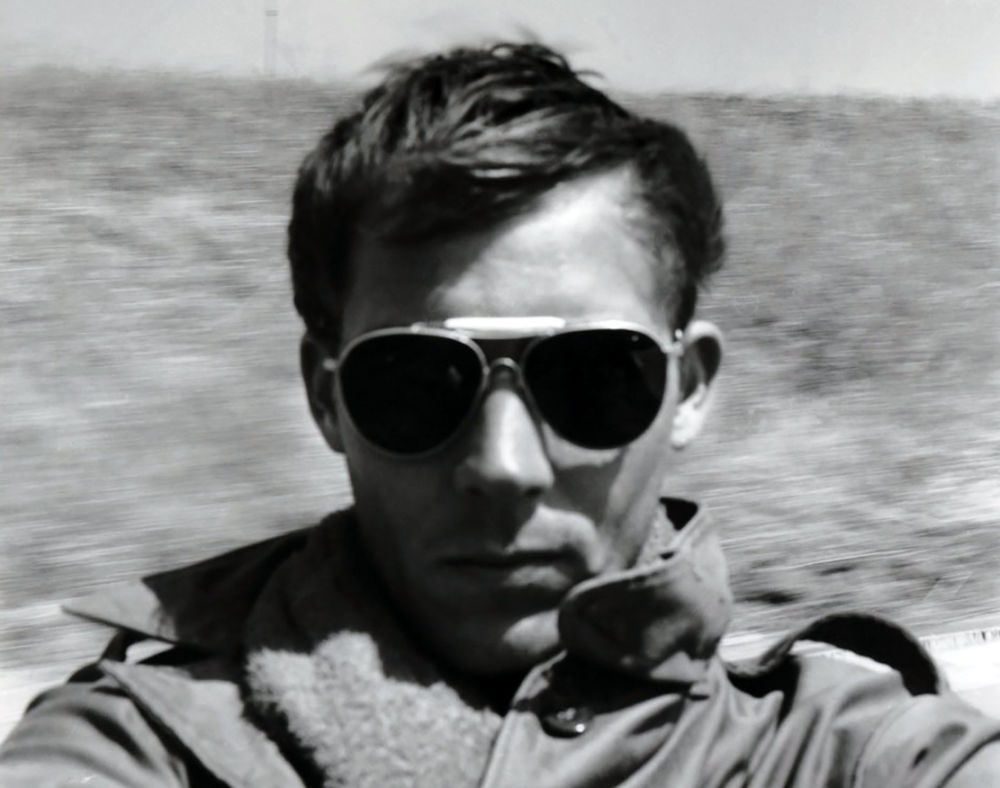 In an October 1957 letter to a friend who had recommended he read Ayn Rand's The Fountainhead, Hunter S. Thompson wrote, "Although I don't feel that it's at all necessary to tell you how I feel about the principle of individuality, I know that I'm going to have to spend the rest of my life expressing it one way or another, and I think that I'll accomplish more by expressing it on the keys of a typewriter than by letting it express itself in sudden outbursts of frustrated violence. . . ."
Thompson carved out his niche early. He was born in 1937, in Louisville, Kentucky, where his fiction and poetry earned him induction into the local Athenaeum Literary Association while he was still in high school. Thompson continued his literary pursuits in the United States Air Force, writing a weekly sports column for the base newspaper. After two years of service, Thompson endured a series of newspaper jobs—all of which ended badly—before he took to freelancing from Puerto Rico and South America for a variety of publications. The vocation quickly developed into a compulsion.
Thompson completed The Rum Diary, his only novel to date, before he turned twenty-five; bought by Ballantine Books, it finally was published—to glowing reviews—in 1998. In 1967, Thompson published his first nonfiction book, Hell's Angels, a harsh and incisive firsthand investigation into the infamous motorcycle gang then making the heartland of America nervous.
Fear and Loathing in Las Vegas, which first appeared in Rolling Stone in November 1971, sealed Thompson's reputation as an outlandish stylist successfully straddling the line between journalism and fiction writing. As the subtitle warns, the book tells of "a savage journey to the heart of the American Dream" in full-tilt gonzo style—Thompson's hilarious first-person approach—and is accented by British illustrator Ralph Steadman's appropriate drawings.
His next book, Fear and Loathing: On the Campaign Trail '72, was a brutally perceptive take on the 1972 Nixon-McGovern presidential campaign. A self-confessed political junkie, Thompson chronicled the 1992 presidential campaign in Better than Sex (1994). Thompson's other books include The Curse of Lono (1983), a bizarre South Seas tale, and three collections of Gonzo Papers: The Great Shark Hunt (1979), Generation of Swine (1988) and Songs of the Doomed (1990).
In 1997, The Proud Highway: Saga of a Desperate Southern Gentleman, 1955-1967, the first volume of Thompson's correspondence with everyone from his mother to Lyndon Johnson, was published. The second volume of letters, Fear and Loathing in America: The Brutal Odyssey of an Outlaw Journalist, 1968-1976, has just been released.
•
Located in the mostly posh neighborhood of western Colorado's Woody Creek Canyon, ten miles or so down-valley from Aspen, Owl Farm is a rustic ranch with an old-fashioned Wild West charm. Although Thompson's beloved peacocks roam his property freely, it's the flowers blooming around the ranch house that provide an unexpected high-country tranquility. Jimmy Carter, George McGovern and Keith Richards, among dozens of others, have shot clay pigeons and stationary targets on the property, which is a designated Rod and Gun Club and shares a border with the White River National Forest. Almost daily, Thompson leaves Owl Farm in either his Great Red Shark Convertible or Jeep Grand Cherokee to mingle at the nearby Woody Creek Tavern.
Visitors to Thompson's house are greeted by a variety of sculptures, weapons, boxes of books and a bicycle before entering the nerve center of Owl Farm, Thompson's obvious command post on the kitchen side of a peninsula counter that separates him from a lounge area dominated by an always-on Panasonic TV, always tuned to news or sports. An antique upright piano is piled high and deep enough with books to engulf any reader for a decade. Above the piano hangs a large Ralph Steadman portrait of "Belinda"—the Slut Goddess of Polo. On another wall covered with political buttons hangs a Che Guevara banner acquired on Thompson's last tour of Cuba. On the counter sits an IBM Selectric typewriter—a Macintosh computer is set up in an office in the back wing of the house.
The most striking thing about Thompson's house is that it isn't the weirdness one notices first: it's the words. They're everywhere—handwritten in his elegant lettering, mostly in fading red Sharpie on the blizzard of bits of paper festooning every wall and surface: stuck to the sleek black leather refrigerator, taped to the giant TV, tacked up on the lampshades; inscribed by others on framed photos with lines like, "For Hunter, who saw not only fear and loathing, but hope and joy in '72—George McGovern"; typed in IBM Selectric on reams of originals and copies in fat manila folders that slide in piles off every counter and table top; and noted in many hands and inks across the endless flurry of pages.
Thompson extricates his large frame from his ergonomically correct office chair facing the TV and lumbers over graciously to administer a hearty handshake or kiss to each caller according to gender, all with an easy effortlessness and unexpectedly old-world way that somehow underscores just who is in charge.
•
We talked with Thompson for twelve hours straight. This was nothing out of the ordinary for the host: Owl Farm operates like an eighteenth-century salon, where people from all walks of life congregate in the wee hours for free exchanges about everything from theoretical physics to local water rights, depending on who's there. Walter Isaacson, managing editor of Time, was present during parts of this interview, as were a steady stream of friends. Given the very late hours Thompson keeps, it is fitting that the most prominently posted quote in the room, in Thompson's hand, twists the last line of Dylan Thomas's poem "Do Not Go Gentle into That Good Night": "Rage, rage against the coming of the light."
For most of the half-day that we talked, Thompson sat at his command post, chain-smoking red Dunhills through a German-made gold-tipped cigarette filter and rocking back and forth in his swivel chair. Behind Thompson's sui generis personality lurks a trenchant humorist with a sharp moral sensibility. His exaggerated style may defy easy categorization, but his career-long autopsy on the death of the American dream places him among the twentieth century's most exciting writers. The comic savagery of his best work will continue to electrify readers for generations to come.
•
. . . I have stolen more quotes and thoughts and purely elegant little starbursts of writing from the Book of Revelation than from anything else in the English Language—and it is not because I am a biblical scholar, or because of any religious faith, but because I love the wild power of the language and the purity of the madness that governs it and makes it music.
HUNTER S. THOMPSON
Well, wanting to and having to are two different things. Originally I hadn't thought about writing as a solution to my problems. But I had a good grounding in literature in high school. We'd cut school and go down to a café on Bardstown Road where we would drink beer and read and discuss Plato's parable of the cave. We had a literary society in town, the Athenaeum; we met in coat and tie on Saturday nights. I hadn't adjusted too well to society—I was in jail for the night of my high school graduation—but I learned at the age of fifteen that to get by you had to find the one thing you can do better than anybody else . . . at least this was so in my case. I figured that out early. It was writing. It was the rock in my sock. Easier than algebra. It was always work, but it was always worthwhile work. I was fascinated early by seeing my byline in print. It was a rush. Still is.
When I got to the Air Force, writing got me out of trouble. I was assigned to pilot training at Eglin Air Force Base near Pensacola in northwest Florida, but I was shifted to electronics . . . advanced, very intense, eight-month school with bright guys . . . I enjoyed it but I wanted to get back to pilot training. Besides, I'm afraid of electricity. So I went up there to the base education office one day and signed up for some classes at Florida State. I got along well with a guy named Ed and I asked him about literary possibilities. He asked me if I knew anything about sports, and I said that I had been the editor of my high-school paper. He said, "Well, we might be in luck." It turned out that the sports editor of the base newspaper, a staff sergeant, had been arrested in Pensacola and put in jail for public drunkenness, pissing against the side of a building; it was the third time and they wouldn't let him out.
So I went to the base library and found three books on journalism. I stayed there reading them until it closed. Basic journalism. I learned about headlines, leads: who, when, what, where, that sort of thing. I barely slept that night. This was my ticket to ride, my ticket to get out of that damn place. So I started as an editor. Boy, what a joy. I wrote long Grantland Rice-type stories. The sports editor of my hometown Louisville Courier Journal always had a column, left-hand side of the page. So I started a column.
By the second week I had the whole thing down. I could work at night. I wore civilian clothes, worked off base, had no hours, but I worked constantly. I wrote not only for the base paper, The Command Courier, but also the local paper, The Playground News. I'd put things in the local paper that I couldn't put in the base paper. Really inflammatory shit. I wrote for a professional wrestling newsletter. The Air Force got very angry about it. I was constantly doing things that violated regulations. I wrote a critical column about how Arthur Godfrey, who'd been invited to the base to be the master of ceremonies at a firepower demonstration, had been busted for shooting animals from the air in Alaska. The base commander told me: "Goddamn it, son, why did you have to write about Arthur Godfrey that way?"
When I left the Air Force I knew I could get by as a journalist. So I went to apply for a job at Sports Illustrated. I had my clippings, my bylines, and I thought that was magic . . . my passport. The personnel director just laughed at me. I said, "Wait a minute. I've been sports editor for two papers." He told me that their writers were judged not by the work they'd done, but where they'd done it. He said, "Our writers are all Pulitzer Prize winners from The New York Times. This is a helluva place for you to start. Go out into the boondocks and improve yourself."
I was shocked. After all, I'd broken the Bart Starr story.
INTERVIEWER
What was that?
THOMPSON
At Eglin Air Force Base we always had these great football teams. The Eagles. Championship teams. We could beat up on the University of Virginia. Our bird-colonel Sparks wasn't just any yo-yo coach. We recruited. We had these great players serving their military time in ROTC. We had Zeke Bratkowski, the Green Bay quarterback. We had Max McGee of the Packers. Violent, wild, wonderful drunk. At the start of the season McGee went AWOL, appeared at the Green Bay camp and he never came back. I was somehow blamed for his leaving. The sun fell out of the firmament. Then the word came that we were getting Bart Starr, the All-American from Alabama. The Eagles were going to roll! But then the staff sergeant across the street came in and said, "I've got a terrible story for you. Bart Starr's not coming." I managed to break into an office and get out his files. I printed the order that showed he was being discharged medically. Very serious leak.
INTERVIEWER
The Bart Starr story was not enough to impress Sports Illustrated?
THOMPSON
The personnel guy there said, "Well, we do have this trainee program." So I became a kind of copy boy.
INTERVIEWER
You eventually ended up in San Francisco. With the publication in 1967 of Hell's Angels, your life must have taken an upward spin.
THOMPSON
All of a sudden I had a book out. At the time I was twenty-nine years old and I couldn't even get a job driving a cab in San Francisco, much less writing. Sure, I had written important articles for The Nation and The Observer, but only a few good journalists really knew my byline. The book enabled me to buy a brand new BSA 650 Lightning, the fastest motorcycle ever tested by Hot Rod magazine. It validated everything I had been working toward. If Hell's Angels hadn't happened I never would have been able to write Fear and Loathing in Las Vegas or anything else. To be able to earn a living as a freelance writer in this country is damned hard; there are very few people who can do that. Hell's Angels all of a sudden proved to me that, Holy Jesus, maybe I can do this. I knew I was a good journalist. I knew I was a good writer, but I felt like I got through a door just as it was closing.
INTERVIEWER
With the swell of creative energy flowing throughout the San Francisco scene at the time, did you interact with or were you influenced by any other writers?
THOMPSON
Ken Kesey for one. His novels One Flew Over the Cuckoo's Nest and Sometimes a Great Notion had quite an impact on me. I looked up to him hugely. One day I went down to the television station to do a roundtable show with other writers, like Kay Boyle, and Kesey was there. Afterwards we went across the street to a local tavern and had several beers together. I told him about the Angels, who I planned to meet later that day, and I said, "Well, why don't you come along?" He said, "Whoa, I'd like to meet these guys." Then I got second thoughts, because it's never a good idea to take strangers along to meet the Angels. But I figured that this was Ken Kesey, so I'd try. By the end of the night Kesey had invited them all down to La Honda, his woodsy retreat outside of San Francisco. It was a time of extreme turbulence—riots in Berkeley. He was always under assault by the police—day in and day out, so La Honda was like a war zone. But he had a lot of the literary, intellectual crowd down there, Stanford people also, visiting editors, and Hell's Angels. Kesey's place was a real cultural vortex.
SOURCE: Wilson, Jason. "The Early Years: Spain, Politics, and Poetry." In Octavio Paz, pp. 1-26. Boston: G. K. Hall, 1986.
[In the following essay, Wilson offers a biographical and critical overview of Paz and his works, focusing mainly on the phase of his career from 1931 through the early 1940s.]
Octavio Paz was born in 1914 in Mexico City in the middle of a bloody and chaotic revolution. However, he avoided this gruesome turmoil and was brought up in a large rundown house in Mixcoac by his pious mother—Josefina Lozano, daughter of Spanish immigrants—a spinster aunt (who introduced him to authors like Victor Hugo and Rousseau), and his paternal grandfather. His father, Octavio Paz, a journalist and lawyer who defended the peasant revolutionary Emiliano Zapata (1877?-1919) in New York and who helped introduce agrarian reform after the Revolution, was usually absent. Paz evoked this family in his long poem Pasado en claro (The past clarified/copied out, 1975). His grandfather was influential: he had fought against the French (1862-68) and supported the dictator Porfirio Díaz (1830-1915); he had written novels and possessed a good library vital to Paz's early literary preparation. The library was rich in classical authors, Spanish classics, and Mexican modernistas like Amado Nervo (1870-1919), but stopped at about 1900.1
Protected by his religious mother and educated by French Marist fathers, Paz was immune from the violence and political maneuverings of those revolutionary days. Yet he grew up in a Mexico coming to terms with its unique Revolution, a period (1917-) often analyzed by Paz but never as a personal experience.
Paz's passion for the fate and history of his country forms part of an intellectual awakening to the dilemmas of postrevolutionary Mexico's possible directions: the Ateneo group, especially José Vasconcelos (1881-1951) and Alfonso Reyes (1889-1959), the philosopher Samuel Ramos (1897-1959), the muralist painters, novelists, anthropologists, and archeologists combined to form a tradition, to which Paz himself actively contributed, that sought to rediscover Mexico's identity. But this nationalistic soul-searching did not determine Paz's early classical and conservative literary development. Only as an adolescent in the 1920s did he discover his own voice through the dissident poets congregated round the magazine Contemporáneos (1928-31) whose European cultural curiosity led Paz to discover the modern Spanish poets in Gerardo Diego's Antología (1932) and then back in time to Juan Ramón Jiménez (1881-1958) and Antonio Machado (1875-1939). This discovery of a non-Mexican modern tradition forms part of our study.2
Paz came of age as a young poet in the crisis years that marked the 1929 Wall Street crash, the rise of fascism, and the appeal of Russian socialism—but from the perspective of a Mexico puzzled by the violence and changes in a seemingly unique revolution that had closed the nation to experiences other than its own. The quality and temper of Paz's writings must be seen in the light of his need to make an idealistic order out of his times's confusions and who as a religiously educated but agnostic young poet turned elsewhere for models in a climate hostile to anything that was not zenophobically Mexican.
THE MORAL STANCE
As early as 1939, on his return from fallen Republican Spain, Paz wrote concerning Emilio Prados (1899-1962)—in Paz's literary review Taller—that "poetry, the best poetry, is a conduct: it expresses itself in acts. It is an image come to life."3 Far more urgent than writing a good poem, an aesthetic ivory tower response to the twentieth-century experience of competing ideologies, this suggests an urge to act out the values of poetry as a way of changing man. The images released by the poet on paper change the poet and make this change in consciousness the real poem. By 1939 Paz had discovered his identity as a poet, not as a Mexican nor a revolutionary. What unites artists as diverse as Tamayo, Cernuda, Breton, Michaux, and Villaurrutia is their moral stance toward art. Paz rescued this moral vision from the collapse of surrealism: "Surrealism is not a poetry but a poetic and even more decisively, a vision of the world."4 In 1954 Paz stated that surrealism seduced him beyond its theories about automatic writing because of its "intransigent affirmation of certain values."5 Paz expanded this notion to include his own work. To Claude Fell in 1975 he defined his celebrated essay El laberinto de la soledad (The Labyrinth of Solitude) as moral criticism.6
Paz characterized these values as the clash within himself between poetry and history, often employing these terms as shorthand notions for complicated processes. For example, the nightmare of history is everything that happens that threatens individual freedom. History becomes a repressive process that dehumanizes: what has been "arrebatada / por ladrones de vida hace mil siglos" (snatched away / by thieves of life a thousand centuries ago, P [Poemas (1935-1975)] 269). History suggests the degradation of life, the tyranny of successive time, rationality, ideologies, nationalisms, religions, science, and alienating city life. For Paz its immediate form was the period of Mexican history he grew up in. He could not avoid becoming imbued with Mexico's revitalised postrevolutionary nationalism. In his desire to become a poet in those circumstances he equated Mexican and all nationalisms as a mental disease. In the 1930s political life invaded every aspect of life. Poets were obliged to study economics, for poetry was not a useful social activity. Paz, reacting to this impinging of history on his freedom to be, became an outspoken critic of this narrow-minded authoritarian view of society (Pe, 66-67).
Paz came to view the revolutionary Mexican one-party system critically because he had experienced a vision of a just and free society in Spain in 1937 where the poet had a role to play and fully participated in society. Paz had witnessed the birth of the New Man there, even if briefly, before the fall of the Republic and claimed: "this memory never abandons me."7 The ruins of this vision of the New Man haunted Paz, especially in the context of the failure of the Russian socialist revolution, the one hope of a just society for most European intellectuals in the 1920s and 1930s, but that had deeply deceived Paz, who early recoiled from Stalin's version of socialism, with its gulags and totalitarian immobility. These disappointments sharpened his moral focus about the dangers of any form of authoritarianism. In 1950 he agreed that totalitarian socialism may transform the economy of a country, but "it is doubtful if it manages to free man. And this is the only thing that interests us and that justifies a Revolution" (L, 152). In 1979 he confessed that much of his intellectual life had been a polemical dialogue with Marx and Marxisms, thus linking him with other dissidents (from his friendship with Victor Serge onward) who fear the way rigid ideologies control and distort history.8
In opposition to history the values of poetry could be synthesized to what has been called the surrealist incandescent triangle of love, liberty, and poetry.9 In a letter in answer to an attack from a hostile Mexican critic in 1959 Paz elaborated: "We are facing new obstacles that will not be economic but spiritual. In the industrial society such as we are beginning to glimpse all these words—art, poetry, imagination, game, love, soul, dream, analogy—shine by their absence. Man is going nowhere if it is not to find himself. The great conquest is not of outer space but of inner."10 The values of poetry as listed by Paz become any means that can liberate man's numbed inner space.
This moral stance is not dogmatic. As a value it is determined by its plurality, its openness to life's unexpected happenings. Paz defines human nature as a personal experience manifested vividly in the here and now and irreductible to history. It is this intangible, unmeasurable, untestable extra quality that Paz explores and defends in himself. Poetry for him becomes a saber espiritual (spiritual knowledge), a suspicion of an alternative reality, the other shore so often evoked by Paz. Art's mission is to oppose rigid ideologies and systems, as well as the functionaries who support them, in favor of "the invincible yes of life" (H, 176). In this sense poetry affirms an ecstasy whose intensity of pure life abolishes history. Paz's great theme is the redemption of the divided alienated individual through love or union with the Other, a completion of the isolated individual in a passionate couple that offers hope of a collective salvation.
The active bitter conflict between poetry and history generates moments of freedom, an epiphany that Paz calls "poetic instants." Consequently, the poet's reactions to history become a test of his moral fiber. At this level Paz's desire to become a poet, to rebel against necessity and write poems without guilt, has led him to explore the functions of the poet and poem in society, both Western and Eastern, almost anthropologically. Many of his poems are explicitly about the possibility of poetry in a world that negates freedom. This desire to work out his salvation as a poet inevitably invokes the fatality of having been born a Mexican. This implies belonging to the marginalized provinces of the great empires of the twentieth century (Europe, the United States, Russia, Japan). Thus Paz's measuring himself with the world's great poets and thinkers takes on poignancy; he was not born in one of the centers of power and had to fight his way out of a limited nationalistic tradition to discover his true roots, his mexicanidad (Mexicanness), his contemporaneity with all who suffer history, his freedom. Paz's vueltas (returns) from living abroad (Spain, the United States, France, India) to Mexico have engendered his most fertile thinking about values. This moral stance, tested by the accidents of history, travel, change, love, aging, reading, and so on, supplies a remarkable coherency to the diversity of his work.
THE EARLY POEMS (1931-36) AND LITERARY DEBTS
Paz published his first poem at the age of seventeen in 1931. He never collected it, but in 1982 Hugo Verani resuscitated "Cabellera" ("Head of hair"), signed Octavio Paz Lozano, whose most revealing detail is the epigraph, in Spanish, from the French poet Saint-John Perse.11 This epigraph suggests that French poetry sparked off Paz's career as a poet. Saint-John Perse's Anabase (1922) was translated by Octavio Barreda in January 1931 in the magazine Contemporáneos whose poets initiated Paz into modern poetry.12
In 1933 Paz published his first book, Luna silvestre (Rustic moon), in an edition of sixty-five copies, but he never reedited this slim volume. In his 1979 Poemas (1935-75) the initial date (1935) proclaims that his real career as a published poet began slightly later than 1933. Yet he does include dated poems written earlier: "Nocturno" ("Nocturne," 1932), "Otoño" ("Autumn"), "Insomnio" ("Insomnia," 1933), and "Espejo" ("Mirror," 1934). Although Paz refused to disinter Luna silvestre, these earliest poems belong to the same period. Glancing through the seven poems of Luna silvestre, many lines and words repeat themselves as echoes from "Nocturno" (P, 63) from nocturno to sueño (dream), sombra (shadow), and estrella (star), as well as the use of questions "¿Cómo decir los nombres … ?" (How to say the names, P, 63) with "¿Con qué nombre clamarte … ?" (With what name to call you out) in Luna silvestre.13 These early poems are excessively lyrical in a Spanish purged of circumstantial details and color, of all that is nonpoetic. They are idealistic strainings to reach perfection, but they fail: "¿Cómo decir, oh Sueño, tu silencio en voces?" (How to say, O dream, your silence in voices? P, 63). From this conservative Castillian language it would be hard to deduce that this is a Mexican poem. Paz was already attempting to be universal, to belong linguistically to a world of pure poetry without abstruse images or distorted syntax. His later poetry can be seen as a moral reaction against the false naiveties of lyrical poetry.
Paz's later poetry further reacts against excessive dependence on Rubén Darío and the Mexican poet Xavier Villaurrutia. The rhythm and diction of lines from "Nocturno" (P, 63) like "Negra escala de lirios llameantes" (Black scale of blazing irises) aptly echo Darío's "diríase un trémulo de liras eolias" (you could say a quavering of aeolian lyres) from "Era un aire suave" (It was a sweet tune) in Prosas profanas (Profane proses, 1898).14 There are modernista borrowings in many other words ("trémula," "camelia"). The debt to Villaurrutia culminated in a book tribute by Paz called Xavier Villaurrutia en persona y en obra (X. V. in person and in work, 1978). This important Mexican debt is transparent in Paz's early poems from "Nocturno," whose title recalls Villaurrutia's famous "Nocturnos" published in 1928-29 in the magazine Contemporáneos (avidly read by Paz) and collected in Nostalgia de la muerte (Nostalgia for Death, 1938). Nearly every line from Paz's 1932 poem reveals an echo from Villaurrutia: "sombra de las voces" (shadow of voices), "mármoles ahogados" (drowned marble statues), "sueño" (dream), "asesinado" (assassinated), and "silencio" (silence) are all associated with Villaurrutia's magnificent "Nocturno de la estatua" (Nocturne of the statue; first published December 1928), lucidly commented on by Paz in 1978.15 Just the titles of Paz's other pre-1935 poems "Espejo" and "Insomnio" evoke Villaurrutia's work. These early poems, confused with the suppressed Luna silvestre, establish a position against which Paz reacts. This position encompasses both the traditional romantic lyrical poem embodied in Darío and the poetics of the solipsistic, isolated individual locked into his dreamscape, a metaphor of a no place, embodied in Villaurrutia. Paz's early poetry is Mexican only by association with Villaurrutia and his poetics of absolute interiority.
Paz's first answer to this inward, idealistic stance is political; it comes to fruition, following his 1936 trip to Yucatán, in Spain in 1937 where he traveled with his first wife, Elena Garro, and Carlos Pellicer. A political stance enters the once pure poems, breaking with both the ivory-tower purity and with Villaurrutia's obsessive self-explorations symbolized in his use of the mirror as key image. Paz opens himself out into a dialogue with history, a feature quite absent in Villaurrutia.
This crucial break involves Paz's debt to the generation of poets who literary historians have grouped around Contemporáneos, the magazine central to Paz's education as a poet and which gave him "an unforgettable jolt."16 For it is Paz's differences with this group of individuals—Villaurrutia, Gorostiza, Cuesta, Ortiz de Montellano—that allowed him to find his own voice.17 And here a stylistic dependence on Villaurrutia is only the surface of debts we now isolate.
(1) The Contemporáneos were characterized by a universalist approach to poetry and art, especially French literature: these poets disseminated, through translations and critical notes, the best world poetry of the time: Blake, Saint-John Perse, T. S. Eliot, D. H. Lawrence, Neruda, Langston Hughes, Gide, Cocteau, etc. To Julián Ríos in 1973 Paz admitted that Villaurrutia "opened the doors of modern poetry for me."18 In 1954 Paz had thanked this generation for introducing Baudelaire, Nerval, and Blake (Pe, 175).
(2) Their universalist attitude implicitly denounced the cultural nationalism prevalent in Mexico during the 1920s and 1930s. Simply by affirming poetry, they went against the grain of socialist realism, the novels and memoirs of the Revolution. The same applies to their reaction against the politicized muralist painters. In Villaurrutia's case, he defended Tamayo (a defense continued polemically by Paz) and the photographer Manuel Alvárez Bravo. Villaurrutia also wrote magnificent essays on Ramón López Velarde and Sor Juana—reorientations continued and enriched by Paz who, following this lead, almost single-handedly redefined the Mexican poetic tradition, epitomized in his anthology Poesía en movimiento (1966).19
(3) Paz adopted the Contemporáneos's general cultural alertness and curiosity. Exemplarily, Villaurrutia reviewed books, films, and art shows: his tastes were genuinely eclectic, spreading from Rilke (Paz wrote an uncollected piece on Rilke),20 to Gide, Borges, Pirandello, and Valéry, even if this eclectic "intellectualism" at times annoyed Paz (Pe, 77).
(4) Paz differed from the Contemporáneos in terms of his moral intensity; he shared no wish to "escape everyday life."21 In 1954 Paz defined this moral gap concerning the issues of the day between his generation and his predecessors as that between literary experiences (the purity of the poem) and "vital" attitudes (Pe, 75). Poetry had to be lived; it was a force that would transform man and destroy bourgeois society. Paz's moral imperative: "The world will be ordered according to the values of poetry—liberty and communion" (Pe, 78-79).
(5) This moral intensity concerning the values of poetry revealed the gap between Villaurrutia's private, anguished, oddly perverse poetic world (the bizarre images in his "Nocturno de la estatua") and Paz's own discovery of the centrality of erotic love with woman (his other), liberty and politics. It was around politics, too prosaic to enter a Contemporáneos poem, that Paz diverged. According to Paz, Villaurrutia resented ideas, philosophy, Marxism, and current events, while for Paz "our situation in history anguished us."22 In the 1930s Marxism seemed the only antidote to the catastrophic times.
(6) Most central to Paz's debt is the way both he and Villaurrutia before him reacted to surrealism. Both are suspicious of blind, mindlessly automatic (mechanical) writing, yet both admitted dabbling with it. Both admire the claims and ideas of surrealism. Both seek lucidity in poetry, "Keeping oneself awake," said Villaurrutia.23 Both poets read deeply into the romantic sources of surrealism (Blake, Nerval, Rimbaud). Paz praised Villaurrutia's "intellectual" poems, adding: "I like the language of dreams, but mistrust dreamy poets."24 Paz defended this clearheadedness and in so doing confirmed his moral debt.
Paz has enumerated further debts to Villaurrutia in terms of the craft of poetry: to curb his lyrical facility, be wary of words, and read poetry aware of the secret nuances (X, 34). Paz had inherited a wide-ranging cultural avidity from the Contemporáneos poets, but found their center empty; he aspired to a more moral and political core-interest in political events, revolution, changing man and society, Marxism, etc.
YUCATáN
In 1937 Paz broke off his formal university studies—and to which he never returned: he called himself an autodidact—in order to do something more useful than study literature in the seclusion of a campus. This gesture suggests a tilting of the scales in favor of revolutionary action over reflection. Paz's dilemma centered on how to remain a lyrical poet in such harassing times, even in revolutionary Mexico under the most revolutionary president until then, Lázaro Cárdenas. Going to Yucatán resolved this dilemma. Paz worked to help implant Mexican educational policy by setting up a school in a poor rural area near Mérida. It was social concern that led Paz there, not a desire to study Mayan ruins. These experiences resulted in a long poem whose final shape has dogged Paz over forty years. Entre la piedra y la flor (Between stone and flower) was begun in Yucatán and published in 1941. In 1976, explaining his revisions, Paz identified his intentions as political: to show the asphyxiating relationship that tied workers to the impersonal, abstract, capitalistic economy (P, 666).
Entre la piedra y la flor is divided into four sections. The title presupposes the peasant who lives "entre" (between) the desert—vividly evoked in images in the first section—and the flower of the sizal plant that ties him to a miserable world as exploited proletariat. The second section taps the poet's shock faced with human suffering in that stony shell of a land. The sizal's sharp-pointed leaves are opposed to this plant's sexual flower, which flowers just once in the plant's life, and compared with the flowering of human life in such harsh conditions. Section 3 centers on man immersed in this plantation land. For sizal is more than a plant: it represents a share in the stock market, man's labor, time, and sweat. The anonymous peasants wear themselves out cultivating this "abstract" plant. Paz then describes this peasant in a language reminiscent of his later El laberinto de la soledad (the male is polite, ceremonious, and obliging but whips his wife), and he also delves into the superstitious core of this man. Section 4 returns to money and how it controls the life-cycle. Paz develops a chain of life-denying analogies: money-wheel-number-bone-time. Certain peasant values escape the tyranny of money—the poem becomes a litany here—like their attitude to death, singing, happiness, and sorrow, their illiteracy (a wisdom ignored by money), and witchcraft. The 1976 revision conserves Paz's attack on death-giving money as the reality of those oppressed lives: an orthodox anticapitalist view (P, 92-99).
We will contrast the 1976 version with some of the deleted fragments, in order to catch Paz's moral/political anger of the late 1930s. The first four sections of the 1976 version are complete rewritings. In the 1941 version the peasants are addressed in the tú form, the comrade/brother familiarity; in the 1976 version this becomes simply man in the third person, "them" (P, 98). But more telling than the re-creations and new images is Paz's suppression of the fifth canto. In the original this canto leads from the poet's observations and interpretations to what action must be taken. Action, the task (tarea) typifies the language of those times. The poet in 1941 (1937) wanted to absorb the peasant's anger and end the capitalist world. "Para acabar con todo" (To finish everything) ends the poem; this revolutionary's tabula rasa is cited four times.25 The crucial revolutionary verb arder (to burn) occurs ten times and points to Paz's political commitment, his "Horno invisible y puro" (Invisible and pure oven), a moral purity that later offended the poet. Paz has pruned his political revolutionary identification between the peasant's lot and the poet's task. In 1976 this conventional 1930s stance seemed ingenuous.26
SPAIN
In 1971 Paz recalled the radical Spanish poet Rafael Alberti's 1934 visit to Mexico. It was the first time that Paz heard poetry read aloud in public; he left dazzled. When Paz met Alberti in a bar he read him his own poems. Alberti commented that Paz's early poetry was not social or revolutionary, but added, "he is the only revolutionary poet among you, because he is the only one trying to transform the language."27 That Paz still remembered Alberti's actual words is significant; it is also important that Alberti defined revolutionary poetry as seeking a revolution in language, not reflecting a revolutionary content. In 1984 Paz again returned to this 1934 encounter with the politicized Alberti. He modifies his admiration for Alberti's rather theatrical readings but again re-creates Alberti's praise for exploring his own intimacy. Paz ends: "I have never forgotten his words."28 Alberti had guessed that Paz was not offering idealistic revolutionary rhetoric to satisfy his bad conscience.
In July 1936 Spain began her ferocious civil war. Paz, ever sensitive to current events, reacted from Mexico with a passionate poem echoing in its title the great rallying cry of the Republicans: "¡No pasarán!" ("They will not pass"). This circumstantial outburst has not been collected, though Paz published it in El nacional (4 October 1936) and as a pamphlet. This pamphlet has an epigraph from Elie Faure about Spain being the reality and conscience of the world. Thirty-five hundred copies were printed and all profits were ceded to the Popular Front in their "heroic" fight. The poem is an elegy that opposes human frailty and gentleness to the forces of death. Badajoz (which fell in August), Irún (fell in September), and a funerary wind are cited in a poem whose obvious protest unites it with many other poems (especially by Neruda and Vallejo) where the moral intensity and purity of the language is heightened by sharing the moral stance of the tender world of friends and comrades closing ranks against evil. The poem ends:
Detened al terror y a las mazmorras, para que crezca, joven, en España, la vida verdadera, la sangre jubilosa, la ternura feraz del mundo libre. Detened a la muerte, camaradas!(29)
(Stop terror and the dungeons / so that true life, / jubilant blood, / the fertile tenderness of the free world / may grow, young, in Spain. / Stop death, comrades!)
At a level of values, as a poet, Paz defended youth, the true life, love, and freedom. This poem would be hard to identify as Pazian—it appeals to a collectivity and voices a collectivity—but its moral defense of "la vida verdadera" (a phrase often used by Paz) surpasses all political creeds. If these values had socialist connotations then, Paz later shed the political husk and maintained the moral seed. The poet Efraín Huerta, reviewing this poem in 1937, thought it would "burn the reader's hands."30
Before finally embarking for Spain, Paz's involvement with the Spanish Republican cause and socialist politics had diverted his intimate lyric poetry into more political channels. In 1951 Paz evoked the fervor of those years: moral concepts like freedom, the people, hope, revolution shone brightly and without irony (Pe, 278). As if the word and the concept at last fused: the poet just had to name pueblo (people) and the concept...